Discover With Us The Earth's Resources!
Since 1986 GET has invested in qualified personal and inhouse-developed practice-oriented high-tech geophysical technologies for target-optimized customer solutions.
GET provides a wide range of services for reliable exploration of resources and objects under the earth´s surface.
Especially our new core technologies HYDROSCAN® and ORESCAN® are suitable for cost-effective exploration and imaging of most valuable resources.
Our unique Electrokinetic Pore-fluid Mixer (EPM) is an ecofriendly, non-destructive Enhanced Oil Recovery technology for low-cost and innovative recovery of bound oil reserves.
BEAM® is the leading technique in the market of real-time ground prediction ahead of the face while TBM tunnelling, applicable at every type of TBM and working properly in any geology.

Worlwide recognized is the TDEM method for detection of unexploded ordnances which we mainly apply in Germany.
All of our services are designed to the prosperity of our clients. Discover the many possibilities with GET.

About us

GEO EXPLORATION TECHNOLOGIES - GET - is a German geophysical service company experienced in exploration of subsurface resources, structures and properties serving numerous national and international projects since 1986.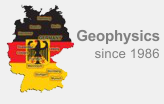 News & Events

BEAM - April 2016 BEAM INTEGRAL system is currently installed into operating METRO ATHENS project. Main target is the detection of potential Karst cavities in the coming limestone formation.

BEAM - August 2015GET has closed the contract to equip BEAM INTEGRAL system at 2 lots of METRO PARIS LINE 14 EXTENSION.

BEAM - July 2015BEAM ground prediction system is equipped at 3 EPB machines at METRO RIYADH LINE 5 and LINE 3.

HYDROSCAN - June 2015 GET has awarded the contract to perform a helicopter-borne survey for detection and imaging of hydrocarbon reservoirs in an acreage of about 2,446 square km nearby Irkutskaya in Russia end of 2015.

BEAM - June 2015In total 18 BEAM measuring units work simultaneously for live monitoring during TBM boring at METRO DOHA Projects in Qatar. ...

HYDROSCAN - January 2014GET has granted the exploration licence for hydrocarbons in an area of about 160 square km in Northern Germany from 2014 to 2019.